This area contains a selection of Scientific 3D Illustrations, visualisations and animations created by DM Multimedia for various clients.
These range from simple visualisations and Flash movies found in the General Illustrations section to complex animated sequences used as part of a DVD Movie explained in the Radwaste disposal DVD.
The Animations section contains the following animations :
Geological Waste Disposal 2009 (View)

This is part of a DVD created for Nagra called "Die Lösung" (available from Nagra - http://www.nagra.ch). This 10 minute animation shows the transport, processing and emplacement in the underground storage tunnels for high-level waste (HLW) and intermediate and low level waste (I/LLW). Originally created in Pal widescreen [square pixels at 1024x576] it is reduced to quarter size for display on the internet. The work carried on from some of the models originally created in the animations below.
Radwaste DVD 2003 (view)

This is an excerpt form a 2003 DVD published by Nagra (National Cooperative for the Disposal of Radioactive Waste), Switzerland describing the procedures and methods for the remote emplacement of a HLW / spent fuel canister. This DVD is available directly from Nagra : Deep Geological Disposal in Opalinus Clay (available in dual language format of English or German).
PSG Experiment (view)

This animation was created to illustrate the Pore Space geometry experiment run by Nagra and partners in the underground research laboratory at Grimsel, in the Swiss Alps. See http://www.grimsel.com for full details of this project.
Coastal Repository (view)

This is a short animation showing a fly-by of a possible coastal repository design. Created in a couple of days to explore some ideas explored during a joint Swiss-Japanese conference on the subject.
Low Level Waste (LLW) Repository (view)

This visualisation was created to illustrate the procedures used in the remote emplacement of a Low Level Waste (LLW) container into a LLW repository. Several different viewpoints can be selected. In design this stage of the disposal will be carried out by remote handling.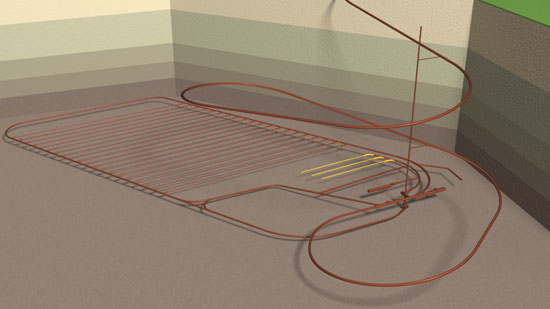 High Level Waste (HLW) repository concept design visualisation for Nagra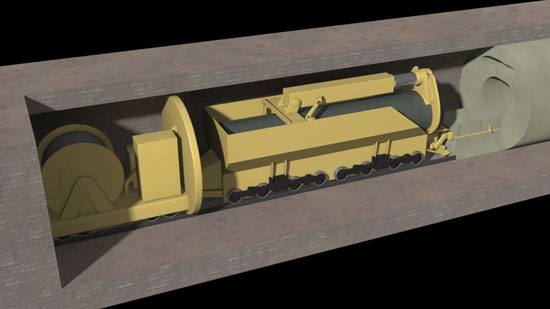 Radwaste retrieval concept - Nagra 2009